Looking to upgrade your entertainment area with something new and fresh? Free games for Amazon Firestick can provide hours of fun and entertainment. The devices themselves add a fun and innovative feel to the living room.
If you're an avid gamer then you'll have heard about or already use the Amazon Fire TV game controller. This gives you access to a regularly updated array of game titles. The best part is that all of these games are free.
But, if you want our advice, only some of these titles are worth your time, so in the interest of saving yours, here's a list of the best free games for Amazon Firestick.
1. Stranger Things: The Game
Stranger Things isn't only one of Netflix's most popular shows but it also serves as the setting and inspiration for this game.
As expected, the game follows the show's classic 1980s arcade vibe with graphics and visuals that fit into this aesthetic.
If you're a fan of the game, you'll be glad to know that all of the players are included in the game. You can even travel through the Hawkins area while overcoming challenges, completing puzzles, and collecting prizes along the way.
But, what caused us to include this Stranger Things game in our list of the best free games for Amazon Firestick is the fact that it's well-designed, fun, and easy to play.
2. Eventide: Slavic Fable
Another one of the best free games for Amazon Firestick, Eventide: Slavic Fable is a puzzle-like adventure with the object being to uncover the location of a rare plant.
But, the reward is about more than that. You need to also save your grandma and help unique creatures located at Heritage Park along the way.
The game itself is made up of a nice blend of puzzles and an engaging storyline. It includes 25 achievements, uncovering 33 hidden objects, and going through 30 locations.
This isn't the fastest free game out there, but it's easy to play and all you need is a normal Fire TV remote.
Attention: Read before you continue
Governments and ISPs across the world monitor their users online activities. If found streaming or browsing content on your Fire TV Stick, mobile or PC, you could get into serious trouble.
Currently, the following information is visible: 
Your IP:
Your Country:
Your City:
Your ISP:
If this is your real information, you need to use a VPN to protect your identity.
We strongly recommend you to get a good VPN and hide your identity so that your online experience doesn't take a bad turn.
We use IPVanish which is the fastest and most secure VPN in the industry. It is very easy to install on any device including Amazon Fire TV Stick. Also, it comes with a 30-day money-back guarantee. If you don't like their service, you can always ask for a refund. IPVanish also runs a limited time offer where you can save 74% on your VPN and they allow you to use one account on unlimited devices.
This is a flash sale that can expire at any time!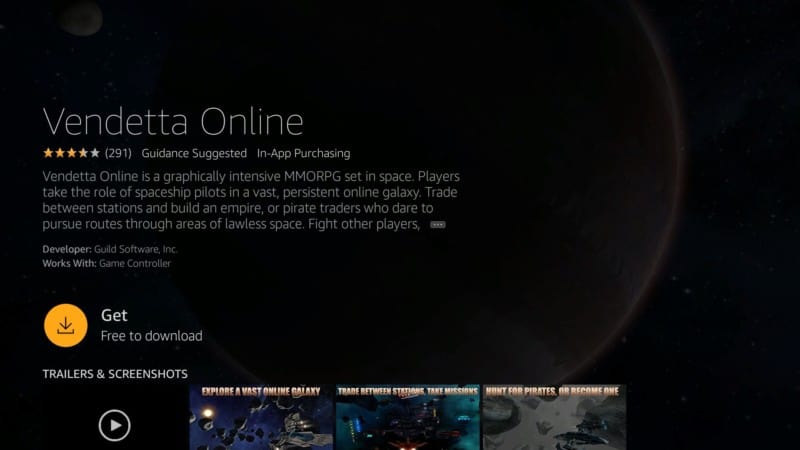 Vendetta Online is one of the best massively multiplayer online role-playing game (MMORPG) setups that we've seen in a while. We were so excited to find out that it's free because it's incredible!
Set in space, the object of the game is to zip around the universe looking for minerals and precious ores to mine and trade. Or, if you like, you can be a space pirate or alternatively join the military and be a space cadet.
As you'd expect, this game is visual candy and we definitely recommend playing it from a large screen TV in order to truly appreciate how beautiful it is.
If you didn't know better, you'd think that Amazon Fire TV devices were created for playing racing games. Beach Buggy Blitz is similar to the classic Mario Kart series. Thanks to its Infinite Drive environment, hours can pass playing this game and you wouldn't even tell.
First, you choose your race car and then through the game, you acquire awards that help to power you up. Along the way, you can unlock different characters and cars too.
We like the cloud features on this game too, which allow you to earn and share points with other players.
Asphalt 8: Airborne is a famous game that has now gone mobile. Initially released in 2013, this racing game gives you 212 cars to choose from. You can race across 18 geographical locations and about 12 tracks overall.
With each race, you get an opportunity to learn new stunts. But you have other racers to deal with, which adds a challenging element to the game.
Ask any hardcore gamer on Amazon and they'll tell you for free that Badland is the ultimate action-adventure game. If you want to understand what it is, we can only describe it as a combination of Flappy Bird and Mario games.
The main character is in the form of a forest creature who's aim is to release his village from the forces of darkness. You go through levels Dawn, Noon, Dusk and Night, completing new challenges and rewards along the way.
Overall, this is an awesome, award-winning game that contains all of what you'd expect from an action adventure.
Which game is your favorite? Let us know in the comments down below!