The official addon repository for Kodi, which is already installed when downloading the app, gives users the ability to add wide a range of media (mainly music and videos) to their current library.
The video addons that come with the official Kodi repository are not only safe, but are legal too. This means you won't have to worry about overstepping any legal or moral boundaries.
These particular addons can be used in order to stream or download various content, including movies, shows, and even live TV. All with the peace of mind knowing that you're not infringing on any legalities.
So, how exactly can these addons be installed? Keep reading, and you'll find out!
What Are These Official Kodi Addons?
Official Kodi addons are the ones that come already installed in the app itself, allowing users to engage in a range of media and content. Besides pre-installed addons, Kodi users are also able to add more addons to their library.
How to Install Official Kodi Addons?
Setting up the official plugins is actually very simple.
Just follow the steps below and you'll see just how to install the official Kodi addons:
3. Click on the package addon install icon, located in the top corner.
4. Select the 'Install from Repository' option.
5. Select the Kodi addon repository -> Video addons.
6. Click on the one you want to add -> Install.
7. Wait until the 'Addon enabled' notification pops up.
8. Go back to the home screen, then click on Addons -> Video addons.
9. Select the plug-in that's just been installed.
What Are the Best Official Kodi Addons?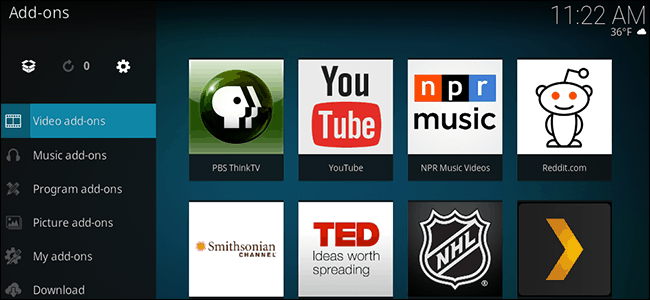 Here's our selection of the very best addons. They are all available to install from the official Kodi repo.
iPlayer WWW
Zattoo Box
YouTube
NBC Sports
Fox Sports Go
ESPN
PopcornFlix
PS Vue
NBA League Pass
TV
NFL GamePass
Rai on Demand
DR TV
Attention: Read before you continue
Governments and ISPs across the world monitor their users online activities. If found streaming or browsing content on your Fire TV Stick, mobile or PC, you could get into serious trouble.
Currently, the following information is visible: 
Your IP:
Your Country:
Your City:
Your ISP:
If this is your real information, you need to use a VPN to protect your identity.
We strongly recommend you to get a good VPN and hide your identity so that your online experience doesn't take a bad turn.
We use IPVanish which is the fastest and most secure VPN in the industry. It is very easy to install on any device including Amazon Fire TV Stick. Also, it comes with a 30-day money-back guarantee. If you don't like their service, you can always ask for a refund. IPVanish also runs a limited time offer where you can save 74% on your VPN and they allow you to use one account on unlimited devices.
This is a flash sale that can expire at any time!
What is the Best VPN for Kodi?
VPNs are a great tool with various benefits, especially when it comes to Kodi, as they allow you to:
Access Location-Restricted Addons – Various Kodi addons are only available in certain regions. Taking advantage of a VPN can help you access them from anywhere.
Get Rid of ISP Throttling – ISPs (Internet Service Providers) often do what's called 'throttling', which is slowing down their users' speeds at busy times. By using a VPN you can avoid this and have super-fast speeds at all times.
Have Complete Privacy – Have an added element of privacy to all your browsing.
In terms of the very best VPN service, we would definitely recommend IPVanish. They have ultimate respect for their users' privacy, as well as being user-friendly and simple to set up. They also run a no-logs policy, meaning they don't sell or share any of your private data. IPVanish is a superb and reliable service which provides you with virtually unlimited access to content on the web.
Kodi's official repository is the ultimate place for experienced and inexperienced users to get the best addons, allowing you to stream, download and experience the huge library of content that's available online.
Although many people seem to avoid it through fear of crossing legal boundaries, the official addons are completely legal and safe. They're regulated by Kodi themselves, and therefore adhere to all legal regulations and rules.
Learning how to install official Kodi addons is simple and straightforward. As long as you stay clear of from third-party or unofficial addons, you have absolutely nothing to worry about!
What addons do you use with Kodi? What content do you like to stream from the app? Drop a comment below to let us know!