In this article, we will teach you how to successfully install FileLinked on your Firestick and Fire TV. First of all, what is Filelinked? Previously known as DroidAdmin, FileLinked is designed to simplify the process of downloading files on any device.
Through FileLinked, you'll be able to install several files at the same time using special codes. You can even download files on your Fire TV and Firestick quickly and easily. That's because users created thousands of FileLinked codes dedicated specifically to different files.
But how to install Filelinked on Android box and other devices? It is important to note though that currently, you need to first side-load FileLinked by installing the downloaded app. This makes it much easier to install FileLinked onto your device and get all the benefits it offers.
FileLinked gives users the ability to transfer
 files
 between them in a simple and speedy way. Not only can you use it to transfer files to another user – such as a user base, a friend, colleague or family member – but you can also transfer files to yourself in order to have them on different devices.
FileLinked app also claims that it has the best integration and support of TV devices, Android Boxes, and Fire TV devices. This way, it prevents users from having to follow lengthy, complicated steps to download or install content.
In order to start creating your own FileLinked store and making the most of its features, you'll need to make an account on the official FileLinked website. Once you've created an account, and verified all the information on your account as well as your e-mail address, your account will be completely set up. You'll have access to your own personal FileLinked dashboard.
When on your dashboard, by selecting 'create new configuration' you'll be able to setup your files. In order to do this, you will have to input the actual URLs of the files. You're even able to customize these files by adding cover photos or logos to each one. 
After you configure your store, you can view these files yourself, share these with other users, or even share them between your own devices. This way you can access the media more efficiently.
A Step-by-Step Guide on How to Install FileLinked on Fire Stick and Fire TV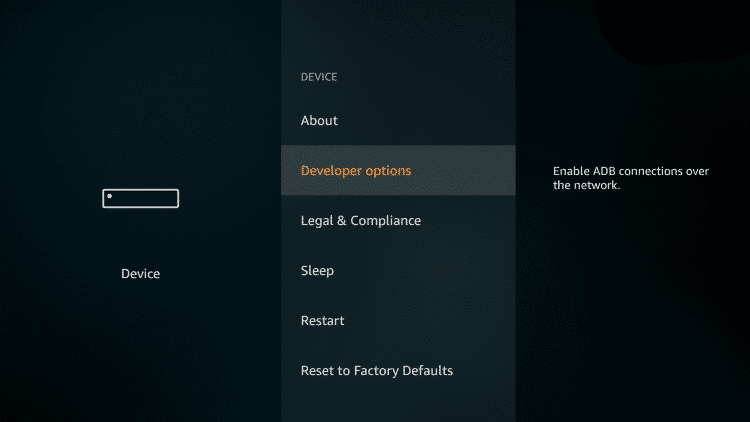 How to install Filelinked for Firestick or how to install Droidadmin on Firestick? The following instructions will let you quickly install FileLinked for Fire TV and Firestick.
1. Launch your Firestick and scroll on the right to find Settings
3. Go to "Developer Options"
3. Make sure to tap on "Apps from Unknown Sources" if it is OFF
6. How to download Filelinked on Firestick? Go back to the Home Screen and click "Search." Type "Downloader" and pick the option.
7. Click on "Downloader App" under the Apps & Games section
8. Select "Download" or "Get" if you haven't owned it before
9. Give the app some time to download and open it right away on "Open"
10. Hit "Allow" to allow Filelinked Downloader to access photos, media and files on your device. 
11. Take a look at the quick start guide and click on "OK"
12. On the Home page the of Downloader app, go to the search box and type get.filelinked.com. Click on GO.
14. FileLinked is ready to open. Launch FileLinked with the hamburger button on your remote or just press "Open"
Access the WebSafetyTips FileLinked store and type  11111111 (eight ones) at the code section. Click Continue to start downloading any of the useful and updated apps of the store. Enjoy!
Attention: Read before you continue
Governments and ISPs across the world monitor their users online activities. If found streaming or browsing content on your Fire TV Stick, mobile or PC, you could get into serious trouble.
Currently, the following information is visible: 
Your IP:
Your Country:
Your City:
Your ISP:
If this is your real information, you need to use a VPN to protect your identity.
We strongly recommend you to get a good VPN and hide your identity so that your online experience doesn't take a bad turn.
We use IPVanish which is the fastest and most secure VPN in the industry. It is very easy to install on any device including Amazon Fire TV Stick. Also, it comes with a 30-day money-back guarantee. If you don't like their service, you can always ask for a refund. IPVanish also runs a limited time offer where you can save 74% on your VPN and they allow you to use one account on unlimited devices.
This is a flash sale that can expire at any time!