In this article, we will teach you how to successfully install FileLinked on your Firestick and Fire TV. First of all, what is Filelinked? Previously known as DroidAdmin, FileLinked is designed to simplify the process of installing APKs on any device, and it gives you access to apps not available in the Amazon App Store.
Through FileLinked, you'll be able to install several apps at the same time using special codes. You can even install streaming apps on your Fire TV and Firestick quickly and easily. That's because users created thousands of FileLinked codes dedicated specifically to different apps and APKs.
But how to install Filelinked on Android box and other devices? It is important to note though that currently, you need to first side-load FileLinked by installing the downloaded app. This makes it much easier to install FileLinked onto your device and get all the benefits it offers.
FileLinked gives users the ability to transfer
 files
 between them in a simple and speedy way. Not only can you use it to transfer files to another user – such as a user base, a friend, colleague or family member – but you can also transfer files to yourself in order to have them on different devices.
FileLinked app also claims that it has the best integration and support of TV devices, Android Boxes, and Fire TV devices. This way, it prevents users from having to follow lengthy, complicated steps to download or install content.
In order to start creating your own FileLinked store and making the most of its features, you'll need to make an account on the official FileLinked website. Once you've created an account, and verified all the information on your account as well as your e-mail address, your account will be completely set up. You'll have access to your own personal FileLinked dashboard.
When on your dashboard, by selecting 'create new configuration' you'll be able to setup your App Store or File Store. In order to do this, you will have to input the actual URLs of the files. You're even able to customize these files by adding cover photos or logos to each one. 
After you configure your store, you can view these files yourself, share these with other users, or even share them between your own devices. This way you can access the media more efficiently.
A Step-by-Step Guide on How to Install FileLinked on Fire Stick and Fire TV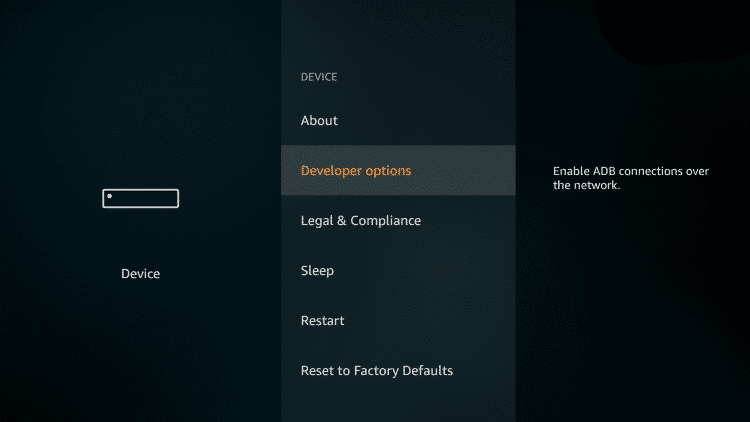 How to install Filelinked for Firestick or how to install Droidadmin on Firestick? The following instructions will let you quickly install FileLinked for Fire TV and Firestick.
1. Launch your Firestick and scroll on the right to find Settings
3. Go to "Developer Options"
3. Make sure to tap on "Apps from Unknown Sources" if it is OFF
6. How to download Filelinked on Firestick? Go back to the Home Screen and click "Search." Type "Downloader" and pick the option.
7. Click on "Downloader App" under the Apps & Games section
8. Select "Download" or "Get" if you haven't owned it before
9. Give the app some time to download and open it right away on "Open"
10. Hit "Allow" to allow Filelinked Downloader to access photos, media and files on your device. 
11. Take a look at the quick start guide and click on "OK"
12. On the Home page the of Downloader app, go to the search box and type get.filelinked.com. Click on GO.
14. FileLinked is ready to open. Launch FileLinked with the hamburger button on your remote or just press "Open"
Access the WebSafetyTips FileLinked store and type  11111111 (eight ones) at the code section. Click Continue to start downloading any of the useful and updated apps of the store. Enjoy!
Attention: Read before you continue
Governments and ISPs across the world monitor their users online activities. If found streaming or browsing content on your Fire TV Stick, mobile or PC, you could get into serious trouble.
Currently, the following information is visible: 
Your IP:
Your Country:
Your City:
Your ISP:
If this is your real information, you need to use a VPN to protect your identity.
We strongly recommend you to get a good VPN and hide your identity so that your online experience doesn't take a bad turn.
We use IPVanish which is the fastest and most secure VPN in the industry. It is very easy to install on any device including Amazon Fire TV Stick. Also, it comes with a 30-day money-back guarantee. If you don't like their service, you can always ask for a refund. IPVanish also runs a limited time offer where you can save 74% on your VPN and they allow you to use one account on unlimited devices.
This is a flash sale that can expire at any time!
Install FileLinked With The New Firestick Interface
Amazon has finally released a new interface for its Firestick devices since its last release 4 years ago.
Here are the steps you need to follow:
1. On the home screen of your Firestick, go to "Find"
2. Click on the first option – Search
3. Type Downloader and select it
4. Select the Downloader app
7. You will encounter a security alert from your Firestick saying your TV is not allowed to install apps from this source. Choose "Settings" to fix it
8.  Click on the only option available and allow Downloader to install other applications that are not from Appstore.
9. Make sure the setting is ON.
11. Hit Install to install FileLinked on your Firestick
12. Click on Install one more time
13. Open FileLinked on your device
14.  At this point you will re-encounter the same security error as in step seven. Again, go to "Settings"
15. Go to the FileLinked option and turn it on so you can use it to install other apps that aren't available on the Amazon Appstore.
How to Install FileLinked on Phone or Tablet
If you install and use FileLinked for Android phone, you can install many apps at once by using special codes. You will also be able to install android apps from every category. 
These special FileLinked codes have been created by users and will help you find different APKs and apps.
But in order to do all this, you have to sideload FileLinked because you can't find it on the Google Play Store.
So how to get Filelinked? By following the instructions below, you will be able to quickly install FileLinked on your phone or tablet:
2. Click on "Download FileLinked."
3. After that, click "Open." If you get an error message that an unknown source is not open, click "Open" and it will take you directly to Settings. Click "Allow."
4. Now that FileLinked has been installed, you will be able to find it under Apps.
6. After it is open, it will tell you to enter a code. Try to access WebSafetyTips FileLinked code (1111111) and explore by yourself  different apps for each category.  
If you are interested in having your own Android App Store. Go ahead to filelinked.com and click on "Create Code". If you need help with creating your own Android App Store on filelinked.com we suggest our tutorial which you can find here.
Fortunately you do not necessarily have to create your own FileLinked Store as there are already many out there which could fit your needs. The first you can try is our own WebSafetyTips FileLinked App Store.
Once you finish the FileLinked installation, open the app to view the Main Screen. Type in your favorite FileLinked code and navigate to the app that you want to download and a Filelinked Store containing all your favorite apps and files will be available to you immediately.
The best part about FileLinked is that it gives you a chance to design your own FileLinked store for specific apps you like. All you have to do is register a free account on FileLinked by following this URL: https://www.filelinked.com/. Through their webpage, you can follow the provided steps to design your personal FileLinked code that suit your preferences.
FileLinked is truly the best app to use if you want to get the most out of your Fire TV device. In fact, FileLinked has been recognized as one of the Best Apps for Firestick and Fire TV.
How Do FileLinked Codes Work?
FileLinked is a huge collection of repos. You can use these repos to download different apps in bulk to an Android device. It provides an easy way to download multiple streaming apps. You can also watch movies and sports on Firestick and Android TV boxes.
So how does it work? Actually, developers normally create their repositories and upload the best streaming apps in the repos. A user can then simply enter his or her repo ID to the FileLinked app and download their favorite apps from the list of available apps.
What is a FileLinked code and where does it come in? This is a code that you enter into the FileLinked app so you can browse the apps market and bulk install Android applications from FileLinked. FileLinked codes provide an easy and quick way to share popular or highly recommended apps with other FileLinked users.
You can also create your own FileLinked repository quite easily by creating your own FileLinked code free of charge from the official FileLinked website. You can then share popular apps using the FileLinked code.
When using FileLinked on your device, the first thing you will see is the following screen asking you to put in a code.
You will need to use FileLinked code to access your contents. If you do not have a code yet, you should first search for one that meets your requirements, i.e. A FileLinked code with apps and files that you want to download or install, or you can use WebSafetyTips FileLinked code shown below.
FileLinked itself is a platform that enables anyone to create their own FileLinked Store (an app or file store). FileLinked itself does not provide the stores, and rather only hosts them.
To provide an example, imagine YouTube. YouTube does not have videos of its own, but rather thousands of users or "YouTubers" upload their own videos.
This means, anyone can use the platform to create their own App Store. You can be one of them, and learn to create your own FileLinked code here.
We at WebSafetyTips, have also created an Android App Store with the most important tools for Fire TV Sticks and Fire TVs. But don't worry. Our FileLinked Store is also interesting for other Android TV devices and even Android mobile phones and tablets.
Get to Know the WebSafetyTips Fire TV Stick App Store
The simplest way to begin is with codes. You can find the WebSafetyTips App Store under the FileLinked Code 11111111 (eight ones).
As soon as you enter the code into the text field, you can press the button "Continue."
As you see, it's fairly simple! Now, through WebSafetyTips Fire TV Stick App Store, you can install apps that keep your device safe, clean and fast.
This image below shows the interface of WebSafetyTips FileLinked App Store. Feel free to browse through all our linked apps and install whichever app that could benefit you!
If you want to know exactly what the WebSafetyTips App Store has to offer, we recommend the following article.
How Do You Find Other FileLinked Stores?
As you may have already realized, the potential of FileLinked is huge. And the best way to use FileLinked will indeed be based on the codes that you have. Even if you didn't find the exact app that you were looking for in our Filelinked store, no problem. 
Do a quick Google or YouTube search for term "FileLinked Store" and you will find thousands of bloggers, YouTubers, and others who have created their personal FileLinked Store willing to share it with you.
Also for the content creators among you using FileLinked. No matter in which area within the Android background you are active. This app provides you with the perfect platform to to share your favorite files and apps with your audience.
Fortunately, FileLinked isn't just free, but you can safely use it too. Having said this, having some sort of anti-virus software of malware protection on your devices will help you when planning to use the app. With help of the Virus Total app FileLinked allows you to scan files before you download them.
Unlike official app stores – such as the Google Play Store – FileLinked does not host the files itself and has currently has no security measures that prevent certain apps from being uploaded. 
In short, any app can end up on FileLinked, so there is the potential to encounter dangerous and malicious apps in some FileLinked App Stores you don't trust. Although this is very unlikely, it's still a possibility that you need to consider.
FileLinked is popularly used on Android TV and Amazon Firestick because most of its repositories provide users with access to numerous apps that you can use to watch high-definition movies and sports channels free of charge.
There are other benefits of FileLinked including the following:
Sharing videos, photos, music, and other APK files. The app lets you share files as an uploader or access other uploaders' files as a user. This function is mainly used on Android devices but you can also configure it on your Firestick. You can easily upload your photos and videos to the app and share the generated code with other FileLinked users.
FileLinked and FileLinked codes are also 100% free. The goal of the app is to provide a free source of TV content.
It is quite easy and fast to install the latest APKs onto your devices using the latest FileLinked codes for Amazon Firestick and Android TV. You don't even have to move the files into a USB stick before installing. It is a great timesaver.
What About Your Online Activity?
Some of the apps available on third party FileLinked stores are collect user data, similar to apps which are available on official stores like the Google Play store as well. By using these, your IP address, as well as other vital information, may be logged when streaming or using these apps. 
So be wary when engaging with any apps form unofficial or official stores! Having said this, there's a solution. If you plan to use these apps, by hiding your IP address, your online activity – including your streams and downloads – will be anonymous, and therefore you cannot be traced, by either your ISP (Internet Service Provider), or even official organizations like the government. The best way to do this is by using a VPN. A VPN (Virtual Private Network) allows you to hide your online activity and to remain completely anonymous online.
It does this by 'tunneling' your connection through its own encrypted server, thus preventing your activity from being monitored or tracked. Although there are free VPN services available, we would advise spending more money to get one that's more secure and reliable. A bad VPN is no better than not having a VPN at all.
We hope this article has sufficiently answered the question what is a FileLinked code? It is a freely available code that you enter into the FileLinked app so you can browse the apps market and bulk install Android applications from FileLinked.
You can always rely on FileLinked to download multiple streaming apps for your Firestick or Android TV box in bulk and enjoy your favorite TV shows, sports, and movies.
Drop us a comment if you have any question about FileLinked codes!