In this article, we will teach you how to successfully install FileLinked on your Firestick and Fire TV. First of all, what is Filelinked? Previously known as DroidAdmin, FileLinked is designed to simplify the process of installing APKs on any device, and it gives you access to apps not available in the Amazon App Store.
Through FileLinked, you'll be able to install several apps at the same time using special codes. You can even install streaming apps on your Fire TV and Firestick quickly and easily. That's because users created thousands of FileLinked codes dedicated specifically to different apps and APKs.
It is important to note though that currently, you need to first side-load FileLinked by installing the downloaded app. This makes it much easier to install FileLinked onto your device and get all the benefits it offers.
Attention: Read before you continue
Governments and ISPs across the world monitor their users online activities. If found streaming or browsing content on your Fire TV Stick, mobile or PC, you could get into serious trouble. Currently, your IP is visible to everyone. We strongly recommend you to get a good VPN and hide your identity so that your online experience doesn't take a bad turn.
We use IPVanish which is the fastest and most secure VPN in the industry. It is very easy to install on any device including Amazon Fire TV Stick. Also, it comes with a 30-day money-back guarantee. If you don't like their service, you can always ask for a refund. IPVanish also runs a limited time offer where you can save 73% on your VPN and they allow you to use one account on unlimited devices. This is a flash sale that can expire at any time.
Click Here for IPVanish VPN @ 73% Off
A Step-by-Step Guide on How to Install FileLinked on Firestick and Fire TV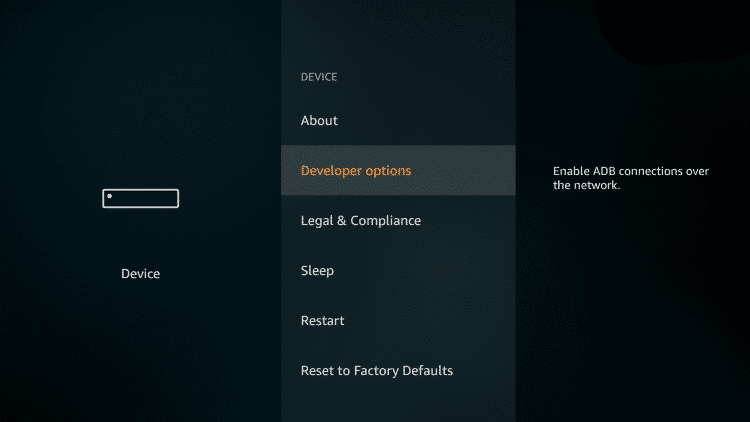 The following instructions will let you quickly install FileLinked for Fire TV and Firestick.
Go to the menu and click on Settings
Select My Fire TV or Device
Click "Developer Options"
Select "Turn On"
Go back to the Home Screen and click "Search"
Type "Downloader", search for downloader at the bottom of the page and select "Downloader"
Click on "Downloader App"
Select "Download"
Click "Open"
Select "Allow"
Click on "Ok"
Go to the address bar and type in get.filelinked.com
Click "Go"
Select "Install"
Click "Done"
At this point, the screen should return to "Downloader" so you can click on this option to remove the file completely
Select "Delete"
Go back to Fire TV home screen and go to "Your Apps and Games"
Scroll to the right and select "See All"
Navigate to the FileLinked icon
Select "Options"
Click "Move to Front"
Once you finish the FileLinked installation, open the app to view the Main Screen. Type in your favorite FileLinked code and navigate to the app that you want to download and a Filelinked Store containing all your favorite apps and files will be available to you immediately.
The best part about FileLinked is that it gives you a chance to design your own FileLinked store for specific apps you like. All you have to do is register a free account on FileLinked by following this URL: https://www.filelinked.com/. Through their webpage, you can follow the provided steps to design your personal FileLinked code that suit your preferences.
FileLinked is truly the best app to use if you want to get the most out of your Fire TV device. In fact, FileLinked has been recognized as one of the Best Apps for Firestick and Fire TV.
Please have a look at the following blogpost where we explain exactly how you can download your desired Files and Apps with FileLinked.
Click here to learn How to use Filelinked.