One of the reasons why it's among the best is because of its excellent compatibility. However, that compatibility also opens it up to malicious people who want to bombard your TV with annoying ads. Thankfully, you can be smarter by installing a Fire Stick ad blocker.
Now there are plenty of adblockers you can install. But because of how adblockers work, you will usually have issues if you use a VPN. Fortunately, there's one ad blocker for Firestick that is compatible with almost all VPNs out there, and that's AdGuard.
In this article, you will learn more about AdGuard and how you can install it on your Firestick.
How to Install AdGuard to Protect Your Firestick
Maybe you don't want to know more about AdGuard, and you just want an excellent Amazon Fire Stick ad blocker installed on your Firestick.
Hence, this article will first cover how to install it.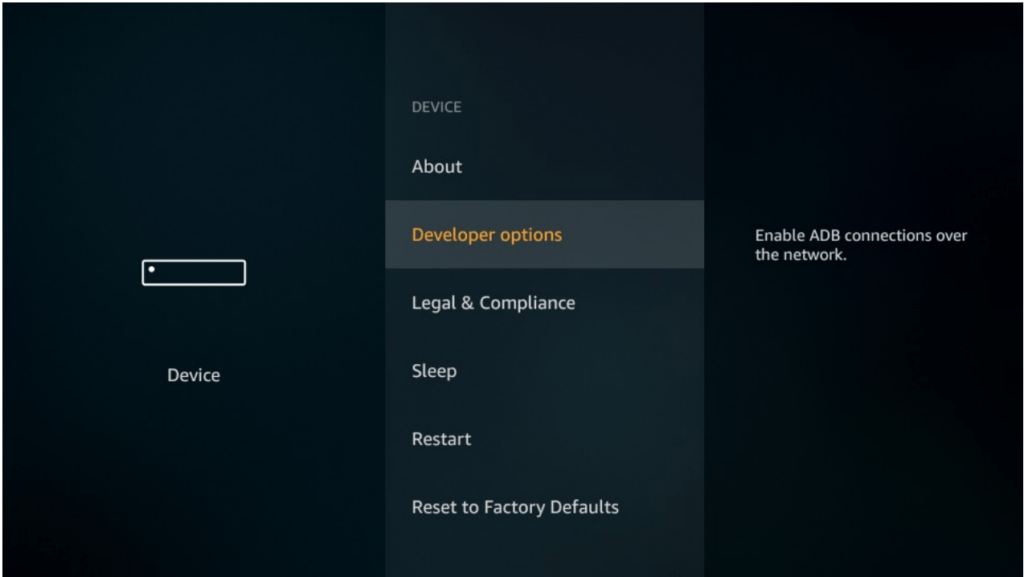 At the time of writing this, you can't download AdGuard directly from the store. You will have to get it from another source. However, Firestick doesn't allow you to do that by default. But worry not, there's a way to disable this restriction through the Developer Options.
The first thing you want to do is go to Settings. Then, choose My Fire TV, and this is where you will find the Developer Options. 
Under the Developer Options, there are two choices there that don't allow you to download from unknown sources. You'd want to disable the two restrictions.
2. Install the Downloader App
Now that you have allowed the installation of apps from unknown sources, you will first need a way to download those. Hence, you will need to install the Downloader app.
To do this, first click on the magnifying glass button on your Firestick Home screen. Type in "Downloader." Next is to find the Downloader app from the options. From there, you just need to download and install it.
Now that you have the Downloader installed, you need to open it. Then, on the blank underline, type this address:
What you are doing here is telling the Downloader app to go to that address and download the APKTime files. Next, you'd want to install the APKTime app.
At this point, APKTime will be installed in your Firestick. The next step is to open it. Once the app is open, do a search for "AdGuard." Once you find it, download and install it.
This is the last step. You simply open AdGuard and just turn it on. You may have to allow it to create a local VPN so it will work at its fullest. At this point, your device should be protected from annoying ads.
Attention: Read before you continue
Governments and ISPs across the world monitor their users online activities. If found streaming or browsing content on your Fire TV Stick, mobile or PC, you could get into serious trouble.
Currently, the following information is visible: 
Your IP:
Your Country:
Your City:
Your ISP:
If this is your real information, you need to use a VPN to protect your identity.
We strongly recommend you to get a good VPN and hide your identity so that your online experience doesn't take a bad turn.
We use IPVanish which is the fastest and most secure VPN in the industry. It is very easy to install on any device including Amazon Fire TV Stick. Also, it comes with a 30-day money-back guarantee. If you don't like their service, you can always ask for a refund. IPVanish also runs a limited time offer where you can save 74% on your VPN and they allow you to use one account on unlimited devices.
This is a flash sale that can expire at any time!
What You Need to Know About AdGuard
As mentioned above, there are many best ad blockers for Firestick to choose from. However, there's a reason why we recommend AdGuard, and that's what this section is all about.
At its core, AdGuard is a Firestick ad blocker. But because of how successful they are at blocking ads, they have gained a name for themselves. To capitalize on that, they are also offering other services that are mostly cybersecurity-related.
AdGuard is extremely effective. In fact, their entire system is highly evolved when you compare it to the competition. AdGuard has an actual algorithm that helps your device to block out those advertisements. It will even cut out HTML code before it's loaded onto your screen so that the ad part never gets read by the device in the first place. It's one of the many reasons why it's so good at what it does.
AdGuard will also block ad tracking requests to protect your Firestick. This alone will help block out plenty of ads as most advertisers use cookies to track online activities. Blocking out these requests means that advertisers can't collect data to show to their customers what you are interested in. Without that, their customers may find it NOT cost effective to show their ads to you. Hence, indirectly, this will reduce the number of ads.
While AdGuard is primarily an adblock for Firestick, it can also protect your Firestick from malware to a certain degree. The application itself can detect and sense phishing attempts and malicious ads. Of course, it prevents these codes from infecting your system. The company has an up-to-date database for known phishing and malware entries. Also, they have a compilation of more than 1,500,000 malicious websites.
Other Amazon Fire TV ad blockers will typically just prevent pop-up windows from coming up. On the other hand, AdGuard is more thorough. It blocks those ads even before it can give the command to open a pop-up window. Hence, AdGuard can help protect you from pop-up ads, even using other applications.
Another thing that's worth mentioning is that AdGuard has 24/7 support. If you have questions or problems, an agent is standing by, ready to help you.
About Potential Virus Infections
AdGuard is not classified as an antispyware or antivirus app. But, it can help prevent malicious files from infecting your system. It can block trojans, spyware, and other malicious wares. However, you should know that AdGuard is only a preventative tool. Thus, you'll still need to be careful. If your system is already infected with malware, you cannot use AdGuard to get rid of it.
AdGuard is not the best anti-malware or antivirus software out there. To be fair, you should not judge it based on its anti-malware capabilities, as it's just an adblock on Firestick.
Just think of it as an ad blocker Firestick that's so good it can help out prevent malicious scripts from infecting your system. And, you know what they say about prevention being better than cure.
Possible Bump in Performance
If you go through AdGuard's information, there's no mention of performance improvement. But, perhaps they should. With ads bombarding your system, it's undeniable that they may result to slow performance. Because of how AdGuard is designed, it's easy to conclude that it can help boost device performance and protect your Firestick. While the bump in speed performance isn't that huge, it's still worth mentioning.
Keep in mind that every time the system displays an ad, there's always a cost to it. It can consume CPU cycles and memory. If the memory is not full, then the presence of ads won't make a big difference.
On the other hand, if Firestick's memory is loaded, then these ads will cause your device to slow down. Once you start blocking all the pesky ads, there will be a noticeable difference when it comes to performance and speed.
Ads are not only annoying, but they can cause a decrease in system performance. Thankfully, you can install AdGuard to block out these intrusions.
Installing AdGuard is a simple process. However, because you can't download and install AdGuard directly from the store yet, there are extra steps you have to complete. Don't worry, it's not complicated, and the steps above should help you with that.
The reason why this article recommends AdGuard to protect your Firestick is because of its compatibility and superior ad-blocking capabilities. AdGuard not only runs smoothly with Firestick, but it's compatible with almost all of the VPNs out there.
AdGuard also has an innovative system that filters and snips out ad codes before it even reaches the application. Plus, it comes with the added benefit of being able to prevent malware.
Let us know in the comments down below what you think about AdGuard and if you have ever used it!