Wireless routers have become an essential item in every household and office connected to the Internet. However, it can be quite infuriating when you pay for high-speed internet but your connection still remains unbearably slow. This is even worse if you don't know how to boost Internet speed. Wi-Fi dead zones or that little annoying buffering symbol can easily send you into a bout of rage.
Wi-Fi can also be quite temperamental. You may be getting a perfect signal in one spot. But as soon as you move to another spot it becomes ridiculously slow and when you get back to the original spot it becomes sluggish again.
When you have temperamental Wi-Fi, it is imperative to fix your connection and speed to enjoy all the benefits of a Wi-Fi connection.
In this article, we will show you how to boost Internet speed using a trick that will not cost you a cent.
How to Boost Internet Speed
To ensure that this method works, start by downloading or using any speed test app such as speedtest.com. You can use these tools to check your current Internet speed before you attempt to boost it.
In our test, the original download speed was 31.62Mbps, which is ridiculously slow and upload speed was 11.56Mbps.
Download and Install the NETGEAR Wi-Fi Analytics App
Note down the current download and upload speeds. Then go to Google Play Store or App Store and search for an app called the NETGEAR Wi-Fi Analytics App. It is a free app and works perfectly whether you have a NETGEAR router or not. Download and install the NETGEAR Analytics App on your phone or tablet.
After you install the app, you can then analyze your current network. The app is quite simple to use. The signal reception is divided into Poor, Good, and Best. Just walk around the room to identify different spots with either poor or good and best connections. At the bottom of the app, you'll see a tab called Network status with the usual Wi-Fi icon.
Just click on the icon and the app will identify all the available networks including the one you are currently connected to. One thing you'll notice is that all the networks are using the same channel, which means everyone in your range is fighting for Wi-Fi connection on the same channel. Such overcrowding on one channel is not a good thing. You have to avoid that if you want to know how to boost Internet speed.
Attention: Read before you continue
Governments and ISPs across the world monitor their users online activities. If found streaming or browsing content on your Fire TV Stick, mobile or PC, you could get into serious trouble.
Currently, the following information is visible: 
Your IP:
Your Country:
Your City:
Your ISP:
If this is your real information, you need to use a VPN to protect your identity.
We strongly recommend you to get a good VPN and hide your identity so that your online experience doesn't take a bad turn.
We use IPVanish which is the fastest and most secure VPN in the industry. It is very easy to install on any device including Amazon Fire TV Stick. Also, it comes with a 30-day money-back guarantee. If you don't like their service, you can always ask for a refund. IPVanish also runs a limited time offer where you can save 74% on your VPN and they allow you to use one account on unlimited devices.
This is a flash sale that can expire at any time!
What You Do Next to Get Out of the Crowd?
Still at the bottom of the app, tap the icon next to the Wi-Fi icon. This will give you the status of the channel you are currently connected to including the number of connections sharing the same channel. In our example, which also applies to most people, we are connected to Channel 1. But when we check at the bottom of the app, we also see better channels to connect to.
The channels are categorized as Average, Best, and Great. Obviously, channels labeled as Best and Great will give you the best signal.
So how do you switch to the better channel?
How to Change Wi-Fi Channel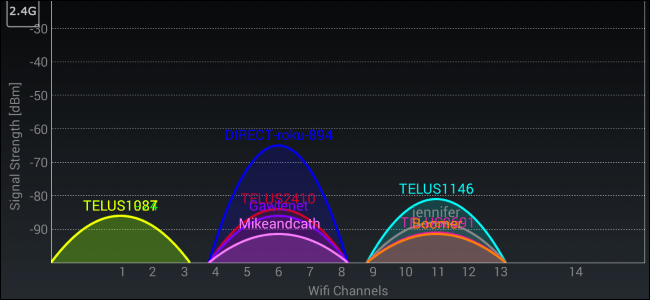 To change channels, go to your computer and log into your router's admin console via the IP addresses provided by your router's manufacturer.
Log in and go to Settings and click on Advanced. Look for Setup and find the Wireless or Wi-Fi Setup. In this part of the settings, change your channel from Automatic to the channel you found to have either Best or Great speed. Keep the rest of the channel settings to channels that you found to have less interference.
While still at Wireless Setup, go to your DNS Settings and change from Default to Cloudflare New DNS. Put 1.1.1.1 into the primary DNS and 1.0.0.1 into the secondary DNS. In Google's DNS put 8.8.8.8. These changes will give you better speed and Wi-Fi experience. Click Apply and run another test to see the difference.
When we run our speed test again, we discover that our upload speed has improved to almost 150 Mbps from the original 31.62 Mbps and our upload speed has increased from the initial 11.56 to 11.80 Mbps.
This simple trick about how to boost Internet speed clearly works. The only challenging thing is just to find is your router's username and password and how you can log in. Once you have these simple details the rest is quite easy.
You'll no longer suffer the pain of slow Wi-Fi speeds and dead zones when you use this simple hack.
Drop us a comment down below to let us know if this tutorial helped you boost your Internet speed!